Coverage
CLINICAL EXCELLANCE
---
The Department of OBG
The Department of OBG under the stewardship of Professor and HOD Dr.Vasundhara Kamineni have achieved a rare distinction in successfully managing a patient with Abnormal uterine bleeding having factor V deficiency.
This is the first reported case in the world to undergo Laparoscopic Assisted Vaginal Hysterectomy & Bitateral Salpingo – Oophorectomy in Presence of factor V deficiency and 14th reported case in the world to undergo major surgery with factor V deficiency.
A paper on this case was published in the Prestigious International Journal 'HAEMOPHILIA'.
---
The Department of Orthopedics
A 26YR OLD MAN MET WITH A ROAD TRAFFIC ACCIDENT, WHILE RIDING A BIKE HIT BY A CAR AND SUSTAINED TOTAL AMPUTATION OF HIS LEFT UPPER-LIMB AT MID FOREARM LEVEL HE WAS BROUGHT TO KAMINENI HOSPITAL, WITH LOW BLOOD PRESSURE STATUS DUE TO SEVERE BLOOD LOSS, ALONG WITH THE AMPUTATED PART.
PATIENT WAS IMMEDIATELY RESUSCITATED ADEQUATELY WITH BLOOD AND NECESSARY INVESTIGATIONS DONE TAKEN FOR EMERGENCY SURGERY FOR THE RE-PLANTATION OF THE AMPUTATED UPPER LIMB.
THE SURGERY WAS STARTED AT 10PM, A TOTAL OF 13 STRUCTURES WERE REPAIRED METICULOUSLY, FOR 8 HRS PATIENT GENERAL CONDITION WAS CLOSELY MONITORED AND CONTROLLED.., DURING THE SURGERY.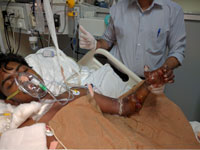 FIRST 48HRS WAS VERY CRITICAL,AND MONITORED IN ICU, AS THE BLOOD PRESSURE STABILIZED, ON 3RD POST OPERATIVE DAY,BOTH RADIAL AND ULNAR ARTERY PULSATION WERE FELT,PATIENT GENERAL CONDITION IMPROVED.
A SUCCESSFUL REPLANATION……
METHOD OF TRANSPORTING AMPUTATED PART :
WRAP THE PART IN A CLEAN MOIST CLOTH
PLACE THE WRAPPED PART IN A CLEAN PLASTIC BAG

KEEP THE BAG IN ANOTHER PLASTIC BAG WITH ICE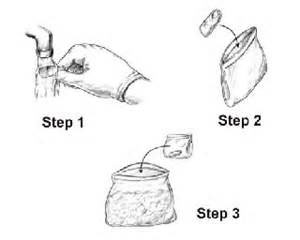 WASH THE AMPUTATED PART TO REMOVE DUST PARTICLES AND KEEP IT IN PLASTIC COVER WITH COOL SALINE /RINGER LACTATE SOLUTION
KEEP THE COVER IN ANOTHER PLASTIC BAG CONTAINING ICE
AMPUTATED PART SHOULD NOT COME IN DIRECT CONTACT WITH THE ICE
A 26 YEAR OLD MAN MET WITH A ROAD TRAFFIC ACCIDENT, WHILE TRAVELLING ON BIKE HIT BY A CAR COMING IN OPPOSITE DIRECTION.
ACCIDENT TOOK PLACE IN SAGAR HIGHWAY,ABOUT 40 KM FROM LB NAGAR X ROADS ON 29-05-2016 AT AROUND 5 PM.
PATIENT SUSTAINED MAJOR INJURY WITH AMPUTATION OF LEFT UPPER-LIMB AT THE LEVEL OF MID FOREARM.HE LOST SIGNIFICANT AMOUNT OF BLOOD DUE TO TRAUMA.
HE WAS SHIFTED TO KAMINENI HOSPITALS, LB NAGAR.PATIENT WAS IN SHOCK I.E., LOW BLOOD PRESSURE AND GENERAL CONDITION WAS UNSTABLE.
HE WAS RESUSCITATED WITH BLOOD TRANSFUSION AND INTRAVENOUS FLUIDS,AND STABILIZED.
AFTER NECESSARY INVESTIGATIONS,HE WAS TAKEN UP FOR EMERGENCY SURGERY FOR REPLANTATION OF LEFT FOREARM.
IN A 8 HR SURGERY, A TOTAL OF 13 ANATOMICAL STRUCTURES WERE REPAIRED SUCCESSFULLY WHICH INCLUDES 7 COMPONENTS, REPAIRED WITH MICRO-SURGICAL TECHNIQUE.
INTRAOPERATIVELY THERE WERE MANY UPS AND DOWNS IN GENERAL CONDITION OF THE PATIENT,WHICH WERE PERFECTLY MANAGED BY ANESTHESIA TEAM.
AFTER SUCCESSFUL RE PLANTATION, PATIENT CONDITION WAS CLOSELY MONITORED BY CRITICAL CARE UNIT.
PATIENT WAS WEANED OF ALL SUPPORTS ON 3RD DAY.PERIPHERAL PULSATIONS WERE PALPABLE.
CHALLENGES:
SEVERE BLOOD LOSS AT THE TIME OF INJURY,HYPOVOLEMIC SHOCK. B NEGATIVE BLOOD GROUP.(A RARE BLOOD GROUP)
AMPUTATED PART WAS NOT BROUGHT IN COOL BAG.
SEVERE CONTAMINATION OF THE WOUND.
CRUSH AND AVULSION INJURY.